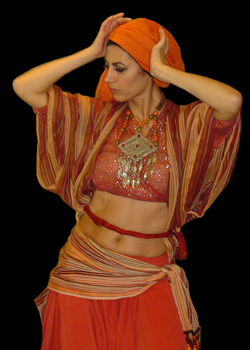 I was born in Lebanon and dance grew up in me.
As a young girl, I was subjugated by the Egyptian and Indian dances of the Egyptian and Indian cinemas, my child's eyes became quite big in front of the beauty of the movements of a body which danced in the screen.

Tradition and modernity
,
diversity and multiple language. Dancing on stage with the live music is for me a place of improvisation.

My expression and my interpretation come to adapt themselves to the music. My body accompanies the music that it is purely oriental, traditional, or from other horizons.

For me, to dance is to dance the dance, to dance the body, to dance the music which we live.

Intrinsically anchored in the traditional oriental dance, I make detours including wider, modern and more contemporary forms
.

If yo want to discover more, click
here
!