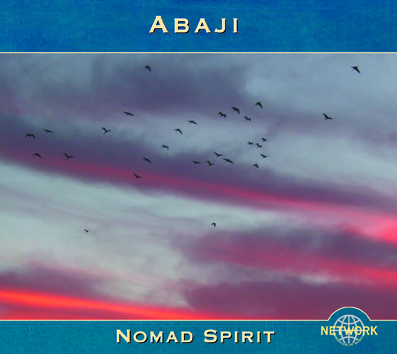 The tracks on this CD, too, are shaped by the multicultural background of Abaji's family: the musical nomad taps into his Lebanese, Syrian, Armenian, Turkish and Greek roots with enormous virtuosity.

And, like the nomads, Abaji has a keen sense of tracks and traces. He listens carefully to his old, historic instruments, such as the ancient double-necked guitar or the Columbian bamboo saxophone. He achieves a stounding tonal patterns on the sitar guitar that was specially built for him and which he transforms into an oriental fiddle by playing it with a bow. On some of the tracks, he sings Arab poetry in his deep, raw voice. This time, he is not traveling alone. He is accompanied with sensitivity and empathy by the Indian master percussionist Ramesh Shotham, the Moroccanud and guembri player Majid Bekkas (a duo that enthralled audiences with their show "Two Roots of Desert Blues") and by that legendary Armenian master of the duduk, Djivan Gasparyan."

Nomads are like birds migrating in the sunset: "the future that lies ahead of them is bound to their past" is Abaji's fitting motto for this exciting project.